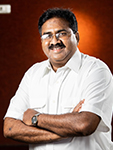 Dr. Raj Kumar,
Medical superintendent and Chief Anaesthetist
Anaesthetist
A contentious, Competent skilled Anaesthetist dedicated to patient care and pain relief. Graduated from Guntur Medical college with early experience in primary emergency & critical care at Nizam's Institute of Medical Sciences (NIMS) Hyderabad. Completed his post-graduation from Guntur Medical College.
Worked as anaesthesia registrar at NRI Medical College Mangalagiri, Vijayawada. Worked as consultant in charge of SICU & ACU at Yashoda Hospitals Secunderabad.
Got experience as Deputy Medical Superintendent and Intensivist in charge of Critical care unit Mahaveer Hospital, Hyderabad. Currently the Medical Superintendent and Head in charge of Anaesthesia Department at Shenoy Hospital.