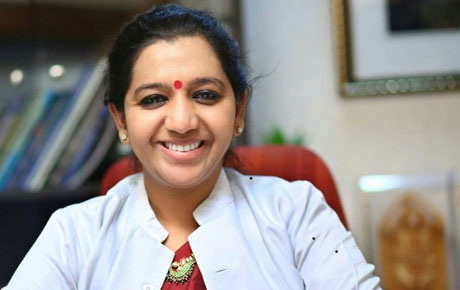 Dr. Aarti Deenadayal Tolani,
MS,OBS GYN
Fertility Specialist
Days: On – Call
Dr. Aarti Deenadayal Tolani is the Clinical Director of Mamata Fertility Hospital as well as the Scientific In-Charge and Member Secretary of Institutional Ethics Committee. After completing her Masters in Obstetrics and Gynaecology, she gained experience and expertise by training in 3D & 4D Ultrasound from the International School of 3D Ultrasonography, Vienna, Austria, Bangalore and Ahmadabad. Basic and advanced embryology training from Singapore and Germany. She had undergone extensive training on advanced endoscopic surgery in Gynaecology from Kiel University, Germany.
From the start of her career, she has always been involved in academics and has won medals and awards for being the best presenter at medical college and at conferences. She recently even won "Young Medical Achiever of the year" by India's best Doctors Awards-2019.
Portfolio:
Clinical Director, Fertility Specialist and Scientific In-charge of Infertility Treatment at Mamata Fertility Hospital since 2009
"Associate Editor Of Italian Journal Minerva Ginecologica
Faculty at the Kiel School of Reproductive Medicine, Germany for the 'Diploma Course in Reproductive Medicine', 2018-2019
Member Secretary of Institutional Ethics Committee (IEC) of Infertility Institute and Research Center
Certifications and Training Programs:
Masters (M.S.) in Obstetrics and Gynaecology
Received training in 3D/4D Gynaec Ultrasound at Advanced VISUS Course from Vienna, International School of 3D Ultrasonography, Vienna, Austria
Indo-German training course in Advanced Endoscopy in Surgery in Gynaecology from Kiel University, Germany
Completed Advanced Embryology and Training Course from Gleneagles Hospital, Singapore (Recognized by University of Queensland, Australia)
Received training in Ovarian Stimulation for IVF from Geneva, Switzerland; San Diego, USA; Jakarta, Indonesia; and Madrid, Spain
Received training in Embryo Transfer at Helsinki, Finland
IOTA Certified (International Ovarian Tumour Analysis): Received training in diagnosing ovarian pathologies by transvaginal ultrasound
Completed BLS Course: American Heart Association Certified Course for Healthcare Providers, 2017
Achievements and Participation in Events and Conferences:
Associate Editor Of Italian Journal Minerva Ginecologica
" Young achiever of the year in the field of infertility" by India's best doctors
Gold Medal and Best Oral Paper award for "Endometriosis in Infertility" at the National Ultrasound Conference at Hyderabad, 2010
Creating awareness in the field of Fertility and Women's Health; Delivered lectures and conducted awareness programs on Women Health for Students and Working Women at various community service events
Faculty for Diploma Course on OBGYN ultrasound at Dubai 2018y service events
Invited faculty for several National and International Conferences
Actively involved in organizing and co-conducting the AICOG 2011, APCOG 2012, ICI congress 2013, 2014 July (The first international conference on Gynaec ultrasound in Hyderabad)
Organizing Chairperson for 6th International Congress, Academy of Clinical Embryologists held at Hyderabad in September, 2017
In the executive committee of ISAR, Telangana Chapter
Written several research papers and publications independently and as a part of the team
received "The Economic Times- National award for budding IVF specialist of India – 2019"