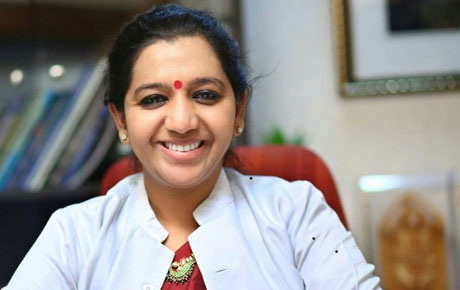 Dr. Aarti Deenadayal Tolani,
MS,OBS GYN
Fertility Specialist
Days: On – Call
Dr. Aarti is a well-known Fertility Specialist in Hyderabad, with an experience of more than two decades in this field. Currently she serves as a Clinical Consultant, Embryologist, and Scientific Incharge at Infertility Institute and Research Centre. She has conducted several awareness and training programs for women's health about Gynecology and Breast Cancer. Dr. Aarti has won several hearts with her warm smile, that she inherits from her mother Dr. Mamata Deenadayal.
Honors & awards
Gold Medal and Best Oral Paper award for "Endometriosis in Infertility" at the National Ultrasound Conference at Hyderabad, 2010
"Best Presenter"- During Post graduation for the year 2007-2008
Certificate of honor & appreciation given by Asian Institute of Nephrology & Urology
Awards received representing IIRC:
Played a key role: In achieving the following awards for Infertility Institute & Research Centre :
Best fertility & IVF Centre in south India – praxis media 2016
6thMT India healthcare awards 2016
Best Fertility Institute in Telangana 2016
The most patient centered Institute in Telangana 2017
ISO-2015 Certification
Qualifications
Indo-German Training Course in Advanced Endoscopic in surgery in Gynaecology, Kiel University, Germany.
Beginners Embryology Training Course – Advanced Embryology and training course, Gleneagles Hospital, Singapore (Recognized by University of Queensland, Australia)
Advanced VISUS Course from Vienna, International School of 3D Ultrasonography, Austria
Specialized training in Intra Cytoplasmic Sperm Injection and Oocyte – Embryo Vitrification Krishna IVF Hospital, Vizag, India.
BLS course, American Heart Association certified course for healthcare providers
Advanced training in Antenatal and Gynecological Ultrasound, Nagori Institute, Ahmadabad, India
Specialized training for Embryo Transfer in Humans, European Society of Human Reproduction and Embryology, Helsinki, Finland
Pre Eshre Advanced Course in Embryology, Helsinki, Finland
Memberships and Positions Held
Played a key role: In achieving the following awards for Infertility Institute & Research Centre
Best Fertility & IVF Centre in South India – praxis media 2016
6thMT India Healthcare Awards 2016
Best Fertility Institute in Telangana 2016
The most patient-centered Institute in Telangana 2017
ISO-2015 Certification
Invited as faculty for several National & International Conferences.
Actively involved in organizing and conducting the AICOG 2011, APCOG 2012, ICI Congress 2013, 2014 July (The first international conference on Gynaec Ultrasound in Hyderabad.)
Organizing Chairperson for 6th International Congress- Academy of Clinical Embryologists to be held in Hyderabad in September' 2017
In the executive committee of ISAR, Telangana Chapter
Keenly interested in Reproductive Imaging and Clinical Embryology.
Delivered lectures and conducted awareness programs on Women Health for students and working women at various community service events
Publications
Complete Urogenital and Colonic Duplication: An extremely rare development anomaly in an adult female, (International Journal of Case Reports and Images (IJCRI))
Written Chapter on "Minimizing Complications in ART", for the text book – Obstetrics and Gynecology Update 2011
Current International Research Collaborations – Prof. Antonio La Marca, University of Modena and Reggio Emilia and Clinica Eugin, Modena, Spain